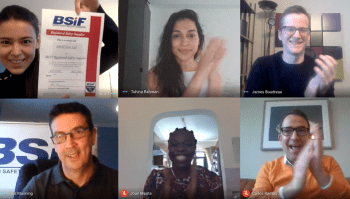 ShieldWear has become a Registered Safety Supplier with The British Safety Industry Federation (BSIF). BSIF are the UK's lead authority for the Personal Protective Equipment (PPE) directive and recognised as a "competent authority" by the Health & Safety Executive (HSE) and Primary Authority with Trading Standards. ShieldWear joins over 350 BSIF members across PPE & safety related product spheres.
Membership helps signpost ShieldWear as a leading distributor of personal protective equipment, having successfully recently undergone BSIF's Registered Safety Supplier Scheme (RSSS) Audit.
As Registered Safety Suppliers, ShieldWear commits to selling personal protective equipment that is appropriately approved and to give sound advice without any attempt to mislead clients. ShieldWear now proudly displays the RSSS logo:

Jayne Lawson, CEO at ShieldWear comments: "We are delighted to be recognised by BSIF for our diligently procured personal protective equipment and to support BSIF on their mission to eradicate counterfeit, poor quality and misleading PPE from the UK market."
– End –
About ShieldWear Ltd
ShieldWear Ltd is a distributor of personal protective equipment, focusing primarily on respiratory equipment. The company is committed and dedicated to achieving excellence for customers across the world via rigorous quality assurance processes. Through intense due diligence, ShieldWear have built a network of trusted suppliers around the globe. The direct access to PPE supply manufacturers and storage in UK and European warehouses cuts through global supply chain delays. ShieldWear Ltd is headquartered in London, UK.
Visit: shieldwear.co.uk
Stay connected: LinkedIn, Facebook, Instagram and Twitter
Subscribe: Newsletter
For media enquiries, please contact:
Tuhina Rahman
Marketing Director | ShieldWear