BBGA ANNUAL CONFERENCE 2019
'Tomorrow's People Today '
What can we do to Encourage the Next Generation of Aviation Entusiasts?
Thursday 7 March, Warren Weir, Luton Hoo
BBGA Golf Day
Friday 8 March – Luton Hoo Golf Club
We hope you have the date in your diaries for the BBGA Annual Conference on 7 March and the BBGA Golf day on Friday 8 March.

Latest News
Aviation Job Search has revealed the top 10 highest paying jobs in the UK aviation industry in 2018.

Read More

14/02/2019

8th Annual Civil Avionics International Forum 2019 – April 16th – 17th, 2019 Shanghai City, China

Read More

18/01/2019

4th Annual Commercial Aero Engine Shanghai International Forum 2019 – March 20th – 21st, 2019 Shanghai, China

Read More

18/01/2019
The BBGA 2018 Christmas Networking Event
The BBGA Connects event took place in London at the London Bridge Hilton last week on the 5th of December. This was our second event following the success of last year and we are delighted to to tell you that we had an additional 30 people attending this year's festivities, which saw 130 attendees. The Connects concept is very simple in that we look to put together members, their guests and a group of non-members who are interested in what the association might do to assist their business.
Thanks to our event Sponsors Close Brothers, Air BP and Gulfstream Aerospace.

BBGA Inaugural Awards 2018
We were pleased to host our inaugural awards ceremony at the Christmas reception where first we recognised our future with
'The Next Generation Award'.
Our deserved winner was
Stefan D'Cruz of RVL Group
the specialist aviation company. Stefan is a pilot for RVL and his attitude from age 11 meant that he did everything he could progress along the path to reach his goal to achieve that goal. He paid for his own PPL by working from an early age. He joined RVL as a member of Operations and was recognised as someone who demonstrated great dedication. As a consequence the company chose to invest in him and support his commercial training, all done in his own time. As a role model for the next generation Stefan epitomises the type of person we would love to welcome into our industry and was a worthy winner. Our second and final award was made to recognise
'Excellence in Aviation'
. This award was made to
John Bool the Technical Director of Harrods Aviation
. The work that John has been doing for many years now is in support of the encouragement of our next generation. John has been working diligently over a period of five years to bring key 'Trailblazer Apprenticeships' into force. In particular John has developed the package to deliver Part 66 Cat B licenced engineers through an apprenticeship and the successful participants will also be eligible for the professional qualification, through accreditation, provided with support from our regulator the CAA.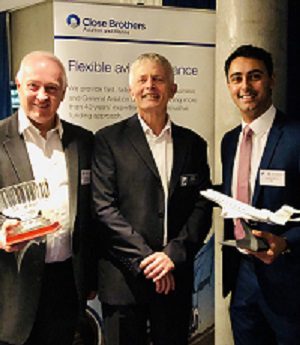 BBGA MEMBERSHIP & DIRECTORY
We keep our membership advised of industry news and issues through Bulletins & Newsletters, the BBGA annual Conference is a widely acclaimed forum and our Members' Directory is a great source for all industry resources. Find out more about our Member Benefits