ANOTHER SUCCESSFUL CONFERENCE AND AGM FOR THE UK'S NATIONAL TRADE ASSOCIATION
The BBGA Annual Conference was held last week at Warren Weir, Luton Hoo. The event was a huge success with delegates praising the association diverse, informative and positive topics being discussed for our industry.
With over 130 attendees on the day, the event focused on the next generation and how we can encourage a new lease of life into the world of aviation. With International Women's day the following day we were delighted to see so many women at the event along with our friends from Women in Aviation.
Further Details are available to view here
With thanks to our Sponsors: listed here
Pictures of the Day: view here
BBGA honours Penny Stephens, CEO of Inflite The Jet Centre, with its prestigious Michael Wheatley Award
Penny Stephens, CEO of Inflite The Jet Centre and vocal proponent of business aviation, was heralded yesterday by the British Business Aviation Association (BBGA) as the recipient of its prestigious Michael Wheatley Award for Outstanding Services to the general aviation industry. The award was presented by BBGA Chairman Marwan Khalek and Marc Bailey, CEO of BBGA, during the Association's annual conference at Luton Hoo, attended by over 140 industry delegates and guests.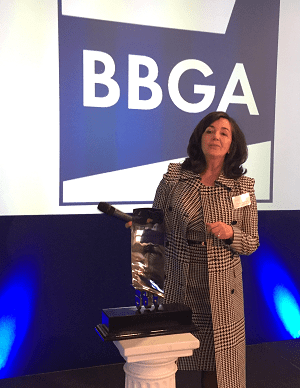 BBGA MEMBERSHIP & DIRECTORY
We keep our membership advised of industry news and issues through Bulletins & Newsletters, the BBGA annual Conference is a widely acclaimed forum and our Members' Directory is a great source for all industry resources. Find out more about our Member Benefits