BBGA ANNUAL CHRISTMAS DRINKS RECEPTION 2019
Royal Gardens Hotel, Kensington - 12 December 2019
The BBGA will be holding their annual Christmas Drinks Reception on 12th December at the Royal Gardens Hotel, Kensington from 7pm to 9pm.
The evening is an opportunity for members and industry colleagues to network and celebrate another exciting year in Aviation.
We are delighted to welcome Close Brothers back as our event sponsor and would also like to thank Gulfstream for their continued support of the event. We welcome our new sponsors Signature TechniCAir and also Voluxis.
Buy 3, get a 4th ticket free. (Individual Tickets are £63 excl. VAT)
Online Booking is now open.

Come along and help us celebrate another exciting year in Aviation …… BBGA Members, their guests and non-members are all welcome to attend.
---
Industry Calls for Stronger Penalties on Illegal Charter
The British Business and General Aviation Association (BBGA) is calling for legal changes to strengthen deterrents for illegal charter and boost enforcement. "Fines are pointless and they are not being enforced," aviation attorney and BBGA Chair Aoife O'Sullivan said today at the Air Charter Expo conference at Biggin Hill Airport. "We need a change in the law."
"Read More"
---
Aviation Centres of Excellence: Developing Tomorrow's Workforce for a Global Community
The British Business and General Aviation Association and European Business Aviation Association were delighted to welcome a range of participants from government, education and industry to our 9 October event, "Aviation Centres of Excellence – Developing Tomorrow's workforce for a global community".
Full Details of the Event and Links to Presentations and the STEM Manifesto are Available by Following this Link
---
Brexit and access in the EU
The diagram below shows representations of the nine freedoms of the air, taken from a recent ICAO report.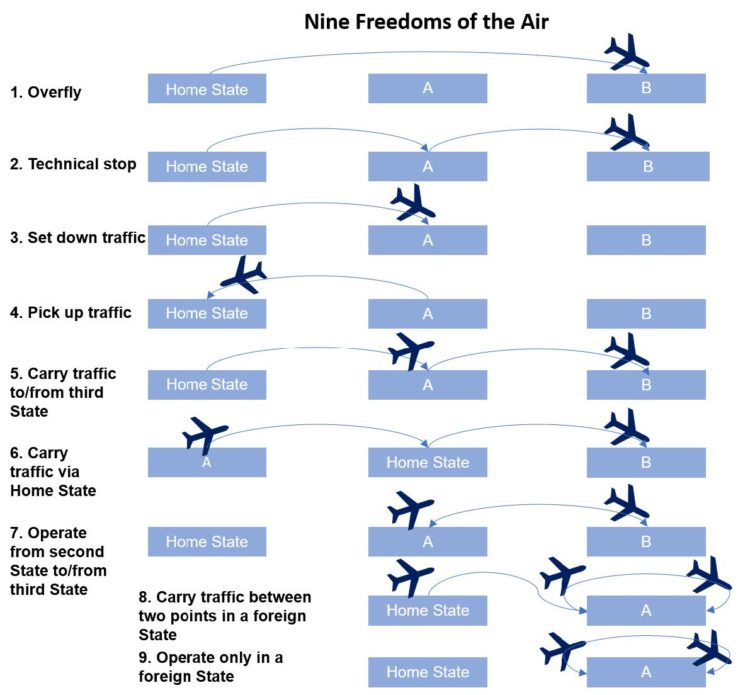 Source: A Study of the effects of the UK Leaving the EU on airlines flying to and from the UK - R-038-001-001
Aviation 2050: the future of UK aviation
In December 2018 the government published its consultation on a new aviation strategy - 'Aviation 2050: the future of UK aviation' - a long-term plan to achieve a safe, secure and sustainable aviation sector that meets the needs of consumers and of a global, outward-looking Britain.
BBGA are continuing the work with DfT to ensure that the Future Aviation Strategy for 2050 reflects the requirements for our sector in the final white paper. Without question the previous Aviation Strategy, which is currently in force, reflects very little of what we do in our sector and primarily reflects scheduled airline activities only. BBGA believes it is vital our sector is represented appropriately in the new white paper, so that in the next five years or so MP's, civil servants and other government agencies make their decisions in line with FAS 2050.
Aviation 2050: the future of UK aviation

Read More

10/05/2019
BBGA MEMBERSHIP & DIRECTORY
We keep our membership advised of industry news and issues through Bulletins & Newsletters, the BBGA annual Conference is a widely acclaimed forum and our Members' Directory is a great source for all industry resources.