Happy New Year to all our members and industry colleagues
BBGA ANNUAL CONFERENCE 2020
FLIGHT TO SUSTAINABILITY"
An in depth look at environmental and business sustainability for the Business and General Aviation Industry"
Booking now live - Book early to take advantage of our Early Bird Rate
The British Business and General Aviation Association is delighted to announce the BBGA 2020 Annual Conference.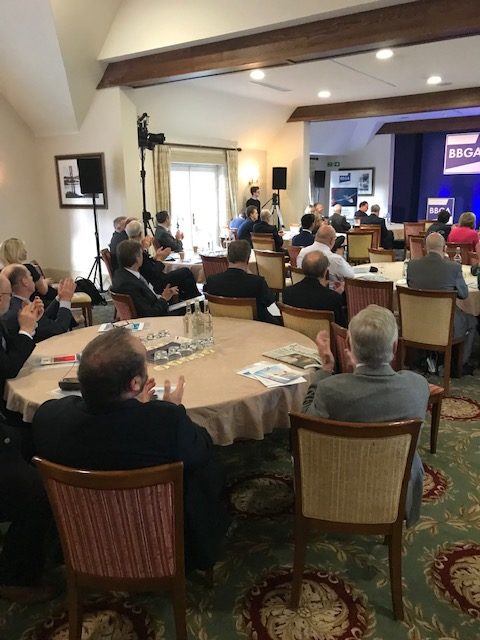 Date: Thursday 5 March 2020 at The Mansion House, Luton Hoo and followed by the annual Gala Dinner.
The theme for our 2020 conference is "Flight to sustainability". We are finalising our conference programme and will soon announce some exciting speakers.
The Conference Programme for 2020. Is Available Here.
There will also be our Golf day on the following Friday at Luton Hoo.
Our online booking system is now live. Details and Registration Available
---
BBGA 2019 Highlights
BBGA CEO, Marc Bailey has summarised the Association's activities throughout 2019. We will continue to support and work with our members during 2020 which could prove an intersting year for our industry.
For more information click here
---
BBGA Responds to Private Jet Ban Proposal
11 November, 2019
Banning private jets in the UK?
Facts to consider
The Labour Government's pledge last week to ban corporate aircraft by 2025 is controversial and emotive indeed. Whether it makes it into its Election manifesto or not, The British Business and General Aviation Association (BBGA), as the influential voice for business aviation in the UK, is obliged to highlight that such a sweeping statement shows a worrying lack of understanding of the business aviation industry and of the impact such a measure would have on the UK's economy, GDP, employment and the facilitation of business to and from the UK.
---
VAT treatment of Aircraft in the Event of a No Deal Brexit
BBGA have been very concerned at the apparent lack of clarity surrounding the VAT treatment of aircraft in the event a deal is not agreed and the UK leaves the EU without a Withdrawal Agreement.
It was our understanding that all aircraft which were previously imported through the UK or Isle of Man would be deemed exported from both the UK and the EU on Exit Day. There was a risk that such aircraft would be exposed to UK VAT on entering the UK or that such aircraft would have to be reimported into the UK. Our Board Members have therefore been working with the DfT, HMRC, Treasury and the CAA to give comfort to owners and operators of aircraft which have already been imported into the UK or Isle of Man, that they will not have their UK VAT paid status affected, irrespective of where the aircraft is located on Exit Day. We are pleased to confirm assurances have been given to us in writing that "HM Revenue and Customs (HMRC) will take steps to minimise burdens on aircraft, on which UK VAT has been paid, re-entering the UK from the EU. In particular, transitional changes will be made to Returned Goods Relief (RGR) to allow for returns of goods from the EU to the UK. This will mean that if an aircraft has previously been imported into the UK/IOM and the appropriate taxes and duties have been paid, its UK VAT paid status will not be affected on the day of EU Exit, irrespective of where it is located".
Please note BBGA is not qualified to give tax advice and this note is for information purposes only. Please ensure you take appropriate advice on the tax treatment of aircraft you own or operate.
---
Industry Calls for Stronger Penalties on Illegal Charter
The British Business and General Aviation Association (BBGA) is calling for legal changes to strengthen deterrents for illegal charter and boost enforcement. "Fines are pointless and they are not being enforced," aviation attorney and BBGA Chair Aoife O'Sullivan said today at the Air Charter Expo conference at Biggin Hill Airport. "We need a change in the law."
Read More
---
Aviation Centres of Excellence: Developing Tomorrow's Workforce for a Global Community
The British Business and General Aviation Association and European Business Aviation Association were delighted to welcome a range of participants from government, education and industry to our 9 October event, "Aviation Centres of Excellence – Developing Tomorrow's workforce for a global community".
Full Details of the Event and Links to Presentations and the STEM Manifesto are Available by Following this Link
---
Brexit and access in the EU
The diagram below shows representations of the nine freedoms of the air, taken from a recent ICAO report.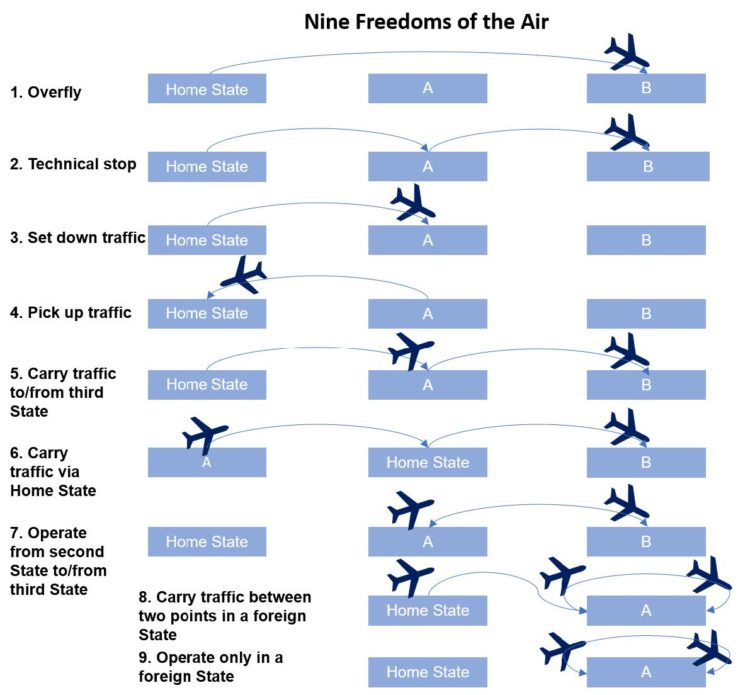 Source: A Study of the effects of the UK Leaving the EU on airlines flying to and from the UK - R-038-001-001
Aviation 2050: the future of UK aviation
In December 2018 the government published its consultation on a new aviation strategy - 'Aviation 2050: the future of UK aviation' - a long-term plan to achieve a safe, secure and sustainable aviation sector that meets the needs of consumers and of a global, outward-looking Britain.
BBGA are continuing the work with DfT to ensure that the Future Aviation Strategy for 2050 reflects the requirements for our sector in the final white paper. Without question the previous Aviation Strategy, which is currently in force, reflects very little of what we do in our sector and primarily reflects scheduled airline activities only. BBGA believes it is vital our sector is represented appropriately in the new white paper, so that in the next five years or so MP's, civil servants and other government agencies make their decisions in line with FAS 2050.
Aviation 2050: the future of UK aviation

Read More

10/05/2019
BBGA MEMBERSHIP & DIRECTORY
We keep our membership advised of industry news and issues through Bulletins & Newsletters, the BBGA annual Conference is a widely acclaimed forum and our Members' Directory is a great source for all industry resources.