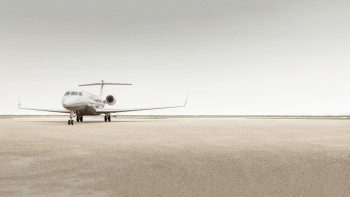 BASEL / January 21, 2021 — Jet Aviation launches a new, refreshed brand and website, following customer and employee feedback gathered over the course of more than a year. To ensure the brand experience embodies the company's promise of effortless interactions at every stage, a new website was developed in parallel to the brand refresh to reflect Jet Aviation's ongoing commitment to all stakeholders and to conclude the integration of the Hawker Pacific business acquired in 2018.
Jet Aviation has been crafting flight in its smoothest form for more than half a century. As a company with some 50 locations and 4,000 employees worldwide, it is committed to enabling global flight, with passion — wherever its customers are, however they choose to get there. This sense of ease and seamlessness, and celebration of the people who make it possible, is at the core of the company's brand refresh.
"When Jet Aviation was founded, we represented innovation, quality and a commitment to customer service. Fast forward to the present and our brand continues to tell customers that they can expect the best from our services and products, and that we put the customer at the center of everything we do," says David Paddock, Jet Aviation President. "Jet Aviation drives customer loyalty by delivering a recognizable, elevated customer service offering and by making it easy to do business with us. That's what our customers expect. That is who we are — the effort behind effortless."
Further to Paddock's appointment as President in June 2019, and the subsequent appointment of his new Leadership Team, the company began reviewing its brand values and commitments against its existing identity. Following in-depth research and analysis of hundreds of interviews with various stakeholders, Jet Aviation is refreshing its brand as part of its ongoing efforts to align its products; deliver an authentic, memorable, and seamless service; and develop novel and sustainable industry solutions.
"Our goal is to shape innovative, world class standards in service and quality as a leading aviation partner in global flight," says Elouisa Dalli, Senior Vice President Group Marketing and Communications. "With a revitalized focus on our brand identity and promise to deliver a simple, warm and cohesive elevated experience across our businesses, we are ensuring Jet Aviation maintains relevance in this changing world."
A new wordmark and monogram reflect this dedication to a simplified, more unified experience. Clean, minimal design and imagery mirrors the simple, understated elegance of a single solution service offering, while ensuring that the real heroes, the company's employees – the artisans of aviation – are front and center. The company's renewed emphasis on Safety, Performance, Respect, and Trust reflect the customer promise, and align with General Dynamics' ethos of Trust, Honesty, Alignment, and Transparency.
The new website further embodies these brand foundations of minimalism and attention to detail. The user experience takes customer feedback into account and provides a smooth, easy-to-use journey, focused on providing essential information in minimal clicks. A light, bright design champions imagery that evokes a seamless, personalized experience, an agile and adaptable workforce, and the unwavering customer focus and attention to detail that underlies the company's brand promise. The Effort Behind Effortless.
Jet Aviation, a wholly owned subsidiary of General Dynamics (NYSE: GD), has been enabling global flight with passion since 1967. From a single maintenance hangar in Basel, Switzerland, to some 50 locations and 4,000 employees worldwide, our offering includes Aircraft Management, Aircraft Sales, Charter, Completions, Defence, FBO, Maintenance, and Staffing. We are the effort behind effortless. Please visit www.jetaviation.com and follow us on LinkedIn: www.linkedin.com/company/jet-aviation.
More information about General Dynamics is available online at: www.generaldynamics.com Contact: Mary-Lou Murphy, Communications Manager, +41 58 158 8891, marylou.murphy@jetaviation.com