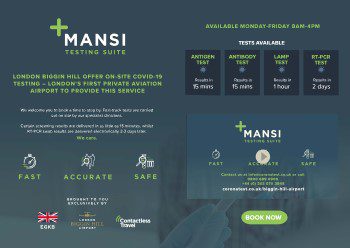 London – 17 November 2020: London Biggin Hill Airport is opening a Covid-19 testing centre on site, available to all arriving and departing passengers.
The Mansi Testing Suite will offer four different types of test provided by G16, a highly experienced Covid-19 testing organisation. These include PCR Testing, LAMP Testing, Antigen Testing and Antibody Testing. Results are available from as little as 15-minutes to two days, depending which type is selected.
The centre is named the 'Mansi Testing Suite' in honour of Dr Joe Mansi, an unsung local hero.
Andy Patsalides, head of marketing, London Biggin Hill Airport, says: "The Mansi Testing Suite is an extension of our Contactless Travel initiative, giving passengers and crew a convenient way to be tested so they can continue their journey with peace of mind. Passengers can either be tested at the Mansi Suite, or clinicians will come airside to conduct tests on board the aircraft or in the terminal building."
All tests must be pre-booked online at https://bigginhillairport.com/covid19testing
ENDS
High-resolution images and interviews are available.
For more information, please contact 8020 Communications.
Heather Mullon / Kate Beveridge
Telephone: +44 (0)1483 447380 E-Mail: bigginhill@8020comms.com