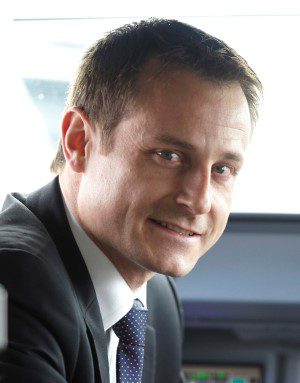 nflite The Jet Centre (ITJC), part of the Inflite Group of companies, based at London Stansted Airport, is pleased to welcome Sebastien Albouy as newly appointed General Manager of its MRO business, effective immediately. Sebastien is taking over the role from Alan Barnes.
Sebastien joins from ABS Jets in Prague where he was Chief Technical Officer. Prior to joining the Czech corporate jet operator, Sebastien held various consulting roles in the MRO industry. He was also General Manager of Embraer's first Executive Jets Service Centre at Paris Le Bourget Airport. He joined Embraer Aviation International in 1999 and assisted co-ordinating entry into service for the E-Jet 170 in Europe and was Logistics & Supply chain Manager for Embraer Aviation International, having previously served ATR Aircraft in Asia, in customer support roles.
"Sebastien brings a whole new skillset to our evolving business and we are delighted he has joined our organisation," said Penny Stephens, CEO at Inflite The Jet Centre. "He has a proven pedigree having gained a wealth of experience during a varied, international career in MRO disciplines. Sebastien shares a commitment to improve product delivery embracing associated efficiencies and we are very much looking forward to working with him."
"I am very excited to join a highly respected team in the industry and follow the excellent legacy of Alan Barnes, who I have had the privilege of working alongside since 2007. The Covid-19 pandemic and Brexit are greatly impacting our industry, but I am confident about the new opportunities arising as a result of these constraints. My focus will be on furthering customer satisfaction and operational excellence," said Sebastien.
Alan Barnes will work with Sebastien through to the end of the month to implement a smooth handover. "Alan has made a valuable contribution to Inflite in various engineering and senior leadership roles over two decades. We wish him well in his new ventures and thank him for all his support over the years," Penny highlighted.
Inflite The Jet Centre continues to remain operational for both base and line maintenance, as does its fully integrated VVIP integrated award-winning FBO – available to all corporate, ex-ecutive jet services.
Editor's note
Inflite The Jet Centre Ltd is part of the Swan Investments Group. It is headquartered at Inflite House, London Stansted Airport. The business provides an extensive range of aircraft handling, engineering and support services from purpose built and newly refurbished premises. With over 30 years' experience, the company's success has been built on the
pursuit of excellence and a total commitment to maintaining the quality of its highly skilled 70-plus workforce and state of the art facilities with its award-winning FBO and MRO facilities.
Inflite The Jet Centre is the new home of Embraer's European demo fleet of Phenom 100 and 300 light jets; Embraer Legacy Series and eventually, the OEM's Praetor 500 and 600 busi-ness jets.
This summer Inflite added base maintenance capability for the Bombardier Aviation Global Express (BD700 Series) under its EASA Part 145 rating, building on its acquisition of Bom-bardier MRO specialist Excellence Aviation. Inflite The Jet Centre took over Excellence Avi-ation, its CAMO division and its Part NCC aircraft management business at the beginning of 2019.
Media enquiries:
Alison Chambers/Liz Danner
Emerald Media
Telephone 01420 560094. Mobile 07721 882939 E: Alison.chambers@emeraldmedia.co.uk E: Liz.Danner@emeraldmedia.co.uk