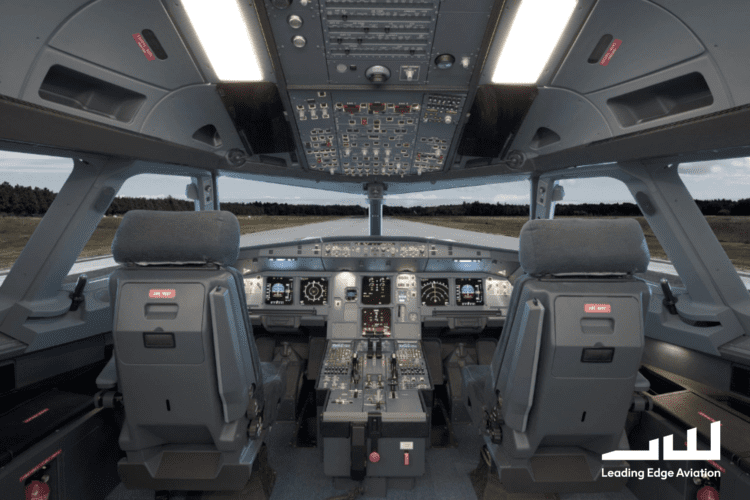 Following the news in July, where they announced the expansion at Airspeed House, Leading Edge Aviation continuesto thrive and expand. This week sees them share news of their purchase of a new, fully enclosed, full cockpit flight simulator, the MPS A320 FTD-1.
The simulator features a full cockpit from a previously active aircraft, D-ASTU and features an OEM (Airbus) supplied data pack –so it couldn't be more realistic!The simulator is equipped with the worldwide database as you would expect and benefits from a further 20 enhanced European airports in high definition.The visual display is a collimated system using three high definition projector units, providing the very best visual experience. The simulator also features CFM56 (ceo) engines. It's built by their highly regarded partners MPS, who will also deliver and install the simulator at Leading Edges'Oxford base. The simulator will sit alongside their existing suite of technology which includes NeuroTracker, an ALSIM AL42 (DA42) simulator, a fleet of 14 aircraft comprising of Diamond DA40 & DA42 and their UPRT trainer, a Slingsby Firefly.
The introduction of the A320 simulator to their fleet will enable them to deliver the final phase of training, the Airline Pilot Standards Multi-Crew Cooperation (APS MCC)onsite, offering their students enhanced continuity. Dave Alexander, Chief Operations Officer commented "we're delighted to add the MPS A320 FTD-1 to our growing fleet and are looking forward to further developing our training courses with it. Our students remain at the heart of everything we do at Leading Edge, so incorporating this significant phase of their training with our in-house specialist Instructors isgreat step forwards!"
The announcement follows recent news of their growing course numbers with around 100 students currently in training, further demonstration of their dedication to their students throughout a very challenging time.
For more Information on training with Leading Edge Aviation, please visit leadingedgeaviation.com or call 01865 546 300.
Media enquiries should be directed to Sarah Champneys, Head of Marketing at sarah.champneys@leadingedgeaviation.com
-END-