The Airfields Panel at this year's BBGA conference included GAAC Vice-Chair John Gilder, alongside Steve Ford from Coventry-based Sky Harbour, and Alex Durand, CEO of Norwich Airport-based Saxonair. John, who also chairs the Airfields Working Group of the All-Party Parliamentary Group (APPG) for Aviation, commented on the pressing need for government to support a UK Strategic Airfield Network (SAN) that would protect the vital aviation infrastructure the UK has left – in the face of many threats and the gradual loss of regional airports and airfields, with virtually zero new ones being added.
BBGA CEO Marc Bailey chaired the airfields panel session with panel members (L to R) Alex Durand, John Gilder, and Steve Ford, who notably started the session by lamenting how hard it was for your chosen home as a business (Coventry Airport in his case) to have a huge cloud over its future.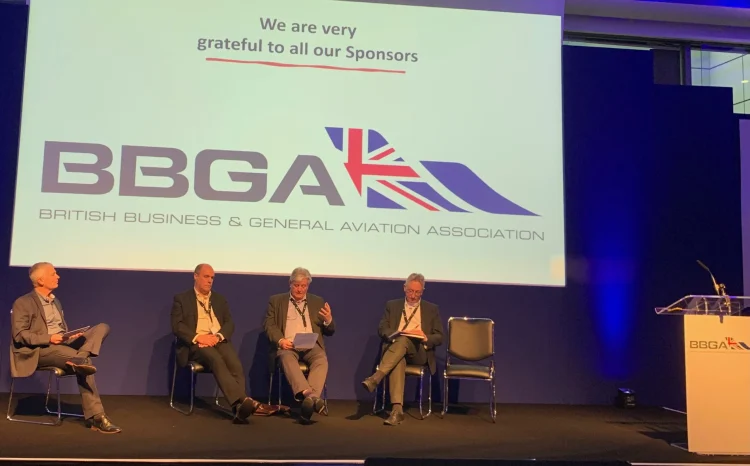 ---
John Gilder also stated that the planning system was "broken" and that airfields did not enjoy the status they would have in some other countries, and although they are in some ways equivalent to farms and hospital grounds they don't have the same protection. Even railway stations sometimes survive because it takes an expensive public inquiry to close one; airfields don't even have this status of importance as infrastructure. "We need to put pressure on government to strengthen legislation and think in terms of UK plc having the [SAN] it really needs," he continued, suggesting that perhaps an Airfield Trust similar to that in the US should be established to acquire airfields from owners who perhaps want to pass them on in a way that means aviation survives.
The panel heard that with the future of aviation moving towards a new era of aerial connectivity with eVTOL-type craft, letting even more airfields and airports close now simply meant the infrastructure is being lost for future generations. With this massive opportunity for regional connectivity emerging, alongside vital connections into Europe, the panel suggested that it was unwise not to ensure the UK, an island nation with many constituent islands and neighbours across stretches of water, can't benefit – whether with existing aircraft or future 'green' aircraft or eVTOLs.
The panel did recognise that the UK Government is trying to sponsor future technology and flight but this should include the infrastructure – even if the exact nature of the requirement wasn't completely clear yet, in terms of whether even the eVTOLs would really need proper airfields and couldn't always just establish viable landing sites. As John Gilder pointed out, alongside the many airfields GAAC is assisting at any one time is the emergency helicopter community with many hospital helipads being threatened or impossible to use, for example because buildings developments have now made them unsafe. This is why ensuring Safeguarding is undertaken is so key for preserving infrastructure, alongside further recognition, if possible, in the National Planning Policy Framework so that airfields are given due consideration when planning applications are being considered.
In conclusion, all on the BBGA panel agreed that educating government at its various levels was essential if aviation's needs and economic importance was to be sufficiently understood – along with proper legislation that ideally establishes a UK Strategic Airfields Network as something with a solid definition and status in legislature.