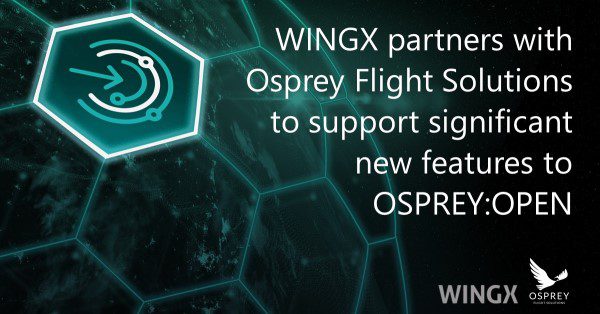 Osprey Flight Solutions are pleased to announce a new partnership with WINGX, a technology-driven market intelligence provider to the global aviation industry, to further strengthen the capabilities and datasets within Osprey:Open for business, cargo and commercial operators.
In addition to the current datasets within Osprey:Open, including live-time updates on Covid-19 and its impact on daily operations, the new datasets provided by intelligence from WINGX will enable operators to see updates and view current trends for business, scheduled and cargo flight departures, by country, for anywhere in the world.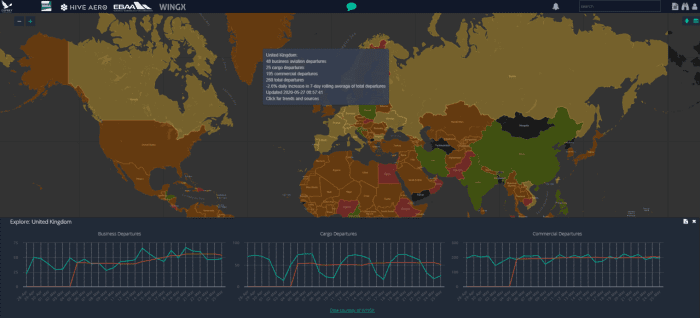 Commenting on the new partnership, Bruce Norfolk, Chief Commercial Officer at Osprey, said:
"Osprey:Open launched in March this year, and the concept behind the platform was to enable a cross-industry improvement in risk management. Since the beginning of the Covid-19 crisis, we have continually developed :Open and added new updates and features in response to the global pandemic. We are delighted to announce the new partnership with WINGX and would like to express our thanks to the team for taking such an important role in enabling the platform to deliver further crucial data to the industry during this particularly challenging time."
Richard Koe, Managing Director at WINGX, added:
"WINGX is tracking the day to day evolution of global flight activity operated by business jets, cargo aircraft and scheduled services as the Covid-19 crisis evolves. Our purpose is to capture and analyse the market impact of changes in utilisation, and relate that to the local perspective of our customers across the aerospace supply chain through our portfolio of tailored interactive dashboards. Through our collaboration with Osprey, WINGX will provide free access to all those wishing to keep track of the high level trends in flight activity in every country worldwide."
Accessible global risk information for all
Osprey:Open is an easy to access, user-friendly, individual-user based platform that provides a base level of security data and information for anywhere in the world. For the first time, comprehensive data on the types of incident or environment that have a daily impact on operations is instantaneously available, making Osprey:Open the most capable platform for supporting security risk management in the aviation industry.
Covid-19 updates to Osprey:Open
Osprey:Open has undergone significant developments over the past weeks and months in order to support the industry during the global pandemic. The Covid-19 datasets are updated as near live time as possible, keeping you absolutely up-to-date as the situation changes.
The recently added Osprey:Open datasets include:
Covid-19 pandemic data – cases and deaths
Covid-19 travel restrictions by country
Covid-19 NOTAMs for airspace and airports
Covid-19 aviation biosecurity by country
Covid-19 "Change Report" by country
Please register for free access here: https://open.ospreyfs.net/ ——————————————————————————————————————–About Osprey Flight Solutions
Setting the standard for aviation risk analysis
Founded in 2017, Osprey fused real-time information, technology and industry leading expertise to deliver the most advanced aviation risk analysis available anywhere. Our revolutionary data-driven approach provides instant situational intelligence to power dynamic decision making. Being able to see, understand and react to threats as they emerge sets a new standard for ensuring the safety and security of passengers, crew and aircraft. Because risk isn't static in a fast-moving, turbulent world. Find out more at www.ospreyflightsolutions.com
About WINGX
From online analytics dashboards to offline consulting, WINGX aims to provide the industry-leading decision-making tools for executives across the aviation supply chain. WINGX customers include aircraft operators (cargo, airlines, business, medical, logistics) as well as airframe, engine and avionics OEMs, airlines, maintenance providers, airports, fixed base operators, fuel providers, legal advisors, leasing companies, banks, regulators, investors and private jet users.
WINGX is headquartered in Hamburg, Germany and also in Geneva, Switzerland. Find out more at www.wingx-advance.com/