The new hotel is due to open in early 2023 at London Biggin Hill
London Biggin Hill Airport's new boutique hotel, The Landing, has announced that it has partnered with Air Culinaire Worldwide to provide a world-class kitchen and dining offering at the new on-airport landmark location.
Air Culinaire Worldwide is a leader in the in-flight catering industry, combining innovation, highly experienced executive chefs, culinary excellence, artisanship and customer service into one luxury offering for the business aviation industry.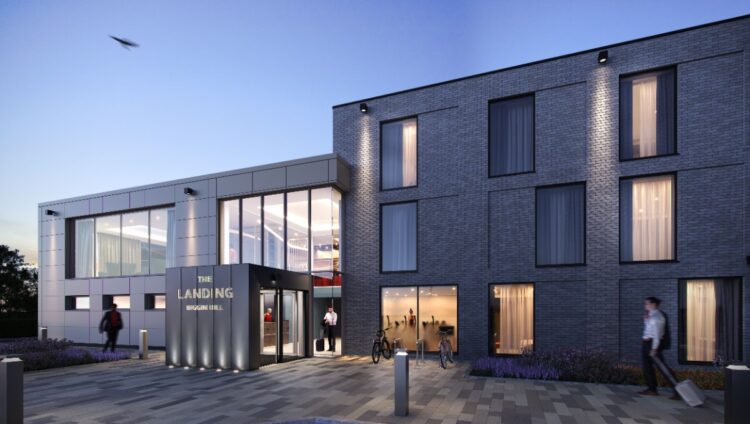 Hotel guests, including those visiting the bar and restaurant, The Approach, will now be able to enjoy Air Culinaire Worldwide's premium cuisine on the ground with a spectacular view of the iconic airport's runway. This will be the first hotel kitchen that Air Culinaire will be running in London.
The menu will include a selection of great British classics as well as a selection of seasonal dishes that offer exceptional quality from the new brigade of Chefs. Guests will be able to relax and unwind in the new bar after a busy day, or meet friends, family, or colleagues for drinks, including a range of signature cocktails.
Guests looking for something truly special can join the team for a delicious aviation themed Traditional or Champagne Afternoon Tea, with views over London Biggin Hill Airport itself.
Steven Thorne-Farrar, General Manager at The Landing Hotel, said: "London Biggin Hill has a long-standing relationship with Air Culinaire Worldwide, who provide world-class in-flightcatering experiences for our business aviation customers.
"We are delighted to partner with the team to provide this same high-quality dining experience for our hotel guests, visitors, and our local community. We can't wait to share our new menus, including locally sourced produce, and welcome our first guests early next year."
"As a critical service company based at the airport for many years, we are extremely pleased to be working with Steven and his team on this project. The kitchen is state-of-the-art and creates a wonderful working environment for our staff, which will be reflected in the service provided to the guests of the hotel, flight crew and passengers" said Paul Schweitzer, SVP Global Sales & Marketing.
For more information, please contact 8020 Communications.
Laura Davies / Caroline Reich
Telephone: +44 (0)1483 447380
E-Mail: bigginhill@8020comms.com