Bournemouth based Av8jet Ltd, an operator and provider of Safety Managements Systems to other aircraft owners and operators has become the first offer an integration of its proprietary Safety Management System, av8sms free of charge to existing subscribers enabling them to automatically report occurrences to the Isle of Man Aircraft Registry from the av8sms system.
The av8sms system, initially launched in 2015 is a suite of products aimed at helping Owner/Operators comply with the regulatory, safety, compliance, rostering and training requirements. av8sms products include Operations Manuals, an online e-learning Training Portal, and the Safety Management System, together they form the framework for any operator throughout Europe. The Safety Management System product has individual modules covering Calendar, Checklists, Compliance, Crew Rostering, Fatigue Risk Management, Safety Management, Training Records, Documentation, Airport Briefings and Safety Notices.
Colin Gill, Deputy Director of Civil Aviation at the Isle of Man Civil Aviation Administration said, "The Isle of Man Aircraft Registry is pleased to have worked with Av8jet to enable a simple and efficient interface between av8sms and our internal occurrence reporting database without the need for the submission of a separate occurrence report. The Registry promotes a just culture in the interests of the ongoing development of flight safety; therefore it is fundamentally important that both mandatory and voluntary occurrences are reported efficiently, so that the knowledge gained from the investigations can be analysed and lessons learned disseminated to others to further enhance the overall level of safety in the business aviation community."
The sole objective of occurrence reporting is the prevention of accidents and incidents and not to attribute blame or liability, but to contribute to the improvement of air safety by ensuring that relevant information on safety is reported, collected, stored, protected and disseminated.
The system, developed by John Norris, Managing Director of Av8jet, who is an experienced Professional pilot/Accountable Manager with a BSc in Computing and Maths,  said 'Our Safety Management System was designed to be easy to use and an effective system to report hazards and it was important for us to be able to submit reports quickly and efficient so to help promote safety reporting, and we are grateful to the Isle of Team in helping with this integration'.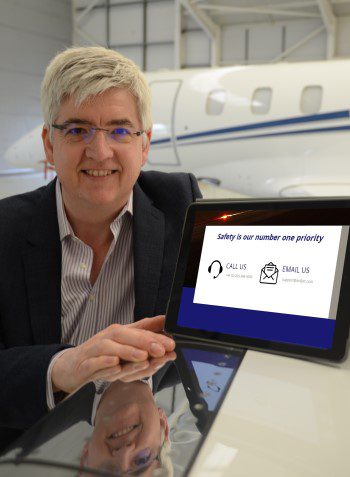 Full information is available at www.av8jet.com
About Av8jet
Since 2006, Av8jet specialise in jet aircraft sales, acquisitions, software and management. Based at Bournemouth International Airport, Av8jet operate for business and private clients a small fleet of various types of aircraft including Gulfstream, Dassault, Textron and Piaggio products.
End
Photo caption: John Norris
For additional information contact: Gareth John Wordcaster PR 07831 623147 gareth@wordcaster.net