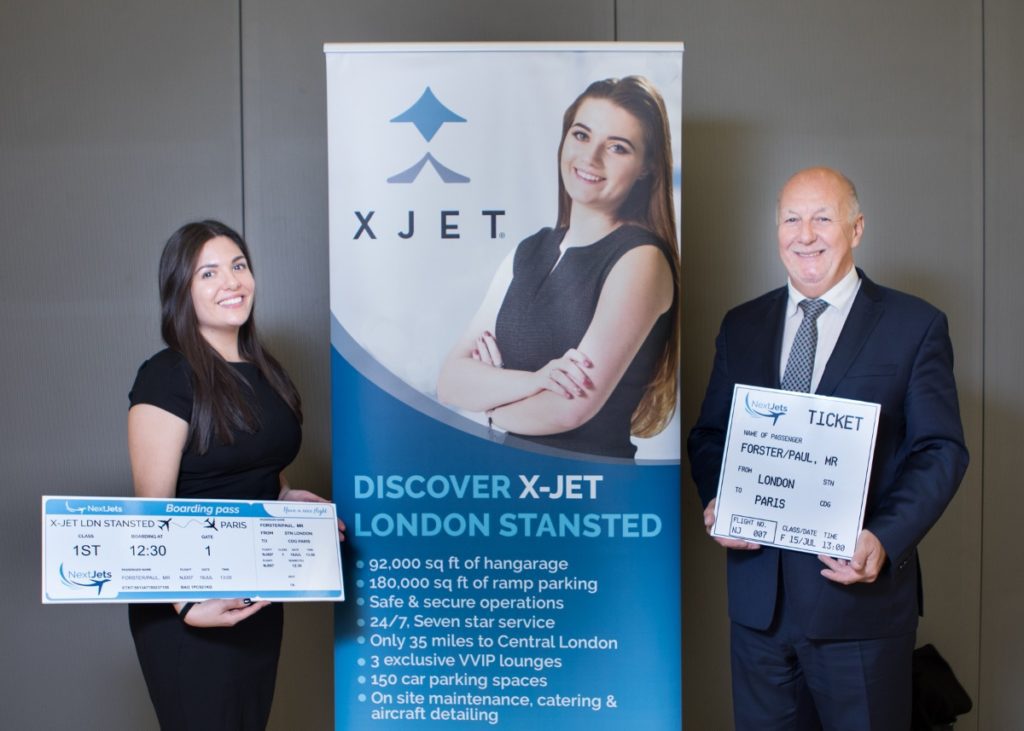 Luxury FBO operator intros enhanced services at its London Stansted Airport
Diamond Hangar home
XJet, the luxury FBO operator at London Stansted Airport continues to revolutionise the private aviation industry with its vision of what a truly world-class FBO can provide for its clientele with the roll out of its new 'tailored branding' service.
XJet has introduced an immersive experience at its London Stansted FBO which can be tailored to a client's specific requirements (ideal for car launches; financial road shows; music and sports tours). From tickets to boarding passes to luggage tags and inside its executive lounges, operators and charter brokers can opt to have their brand's logo, corporate colours and décor featured as and where they choose.
Boarding passes and tickets are also now available in electronic form, in line with XJet's commitment to sustainability.
"The system allows us to carry out direct electronic online filing of GAR's; all flight handling paperwork; load sheets; branded boarding passes and luggage tags, plus a few additional options," noted XJet General Manager Paul Forster, architect of the new solution.
XJet can update the appropriate charter broker of their flight's status via automated text messages including 'passengers have been screened'; 'passengers boarded'; 'doors closed' and 'aircraft airborne' – taking out or cutting down telephone calls or emails.
Fine art showcasing new talent
Inside its lounges, XJet showcases a steady stream of beautiful and individual items of art and sculptures from talented, emerging artists from all over the world.

As its reputation builds, a number of other prestige brands will be showing at the XJet facility, further enhancing the customer experience as they travel through the FBO.
"In response to demand from customers, our team has worked hard to create, develop and build the concept so that clientele can distinguish themselves from their competitors and build facilities and private conference rooms for its VVIP clientele."
Open 24/7, The Diamond Hangar also provides world-class maintenance, safety and security for aircraft of all sizes. Unique among such facilities, it boasts 150 car park spaces.
XJet is proud to be a BBGA and EBAA member company.


About XJet
XJet opened its doors in in the UK in 2014 with a simple goal: To wow every single member and customer on every occasion.
The company which commenced operations in Denver, USA in 2007, started welcoming transient aircraft in 2009 and is now recognised around the world for its high-quality facilities, outstanding customer service and commitment to safety.
Headquartered in London, XJet is building FBOs in the Middle East and at several European locations. Its London home at the vast Diamond Hangar at London Stansted houses one of the largest VVIP facilities in the world.
XJet has received numerous awards for its outstanding service levels, luxurious state-of-the-art facilities and corporate branding.
About the Gallery

Arguably the first Private Jet Terminal to install a permanent Fine Art Gallery, XJet at London Stansted Airport, is pleased to offer a balanced selection of Fine Art on display, suitably priced to match the tastes and expectations of their high net worth passengers. With abstract works by Simon Kenny, whose most notable collector was the late Prof Stephen Hawking, to an official portrait of Her Majesty the Queen painted by Royal Portrait Artist Nicky Phillips. (Her recent work of HRH Prince William and HRH Prince Harry now hangs in the Victoria and Albert Museum.)
Private jet passengers flying out of the XJet FBO can also enjoy the unique and sensitive contemporary sculptures on display, some of which have been crafted by the much sought after designer and artist Patrick Donlan, who is also being courted by the SuperYacht sector. Prices on application, ranging from £300 to in excess of £50 million (these pieces are not on display). With this unique collaboration, XJet merges private aviation with fine art seamlessly.

For all enquires please contact gallery@xjet.com


Issued by Emerald Media Ltd.

Tel: +44 (0) 1420 560094