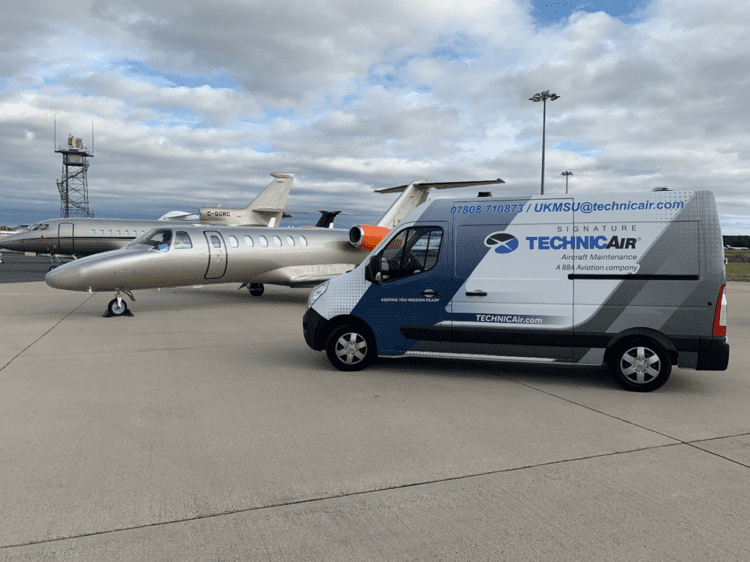 Signature TECHNICAir, the aircraft maintenance division of worldwide FBO network Signature Flight Support, has expanded its MRO capabilities with a new mobile service unit (MSU) based at the Manchester Airport in Manchester, England. The addition of a location in the geographic center of the United Kingdom broadens mobile maintenance coverage across Northern England, the Midlands, and southern Scotland, complimenting four existing TECHNICAir MSUs in the south of England at Bournemouth, Farnborough, London-Luton, and London-Biggin Hill airports.
Business jet operators are able to take advantage of a variety of services traditionally reserved for time expending visits to a certified repair station through a TECHNICAir MSU, which are outfitted to accommodate light to medium on-demand maintenance at any airport. Licensed technicians are able to respond to call outs for AOG incidents, preventative maintenance, regular checks, and avionics, engine or interior repairs, with specializations in Hawker, Cessna Citation, and Embraer series aircraft.
"Signature TECHNICAir's ability to offer aircraft maintenance throughout the United Kingdom has been consistently growing due to our investment in our mobile services business" noted John Hamshere, Sales and Customer Support Manager for TECHNICAir's EMEA region. "With the addition of our Manchester based mobile service unit, Signature TECHNICAir can offer comprehensive coverage of the entire country, empowering aircraft operators with MRO services that are designed to fit the unique needs of their schedule and location. "
Information on Signature Flight Support
Signature, including Signature TECHNICAirTM and EPIC Fuels, provides premium, full service flight and home base support including refueling, ground handling and MRO services through the world's largest fixed base operation (FBO) network for B&GA users with around 200 locations covering key destinations in North America, Europe, South America, Caribbean, Africa and Asia. EPIC Fuels is a provider of aviation fuels, supplies and services operating at more than 200 locations.
For more information, please visit signatureflight.com