ETS
Eurocontrol ETS Support facility
---
aviationjobsearch.com is the biggest and best aviation careers site in the world. Every month our 400,000 registered jobseekers send 60,000 applications to the biggest names in the industry: BA. Boeing and Emirates among others trust us with their recruitment.
If you are a BBGA member, you can claim 15% off when you post a job online. Email john@aviationjobsearch.com for your voucher code!
For more info go to www.recruiters.aviationjobsearch.com, email info@aviationjobsearch.com or call 01772 978085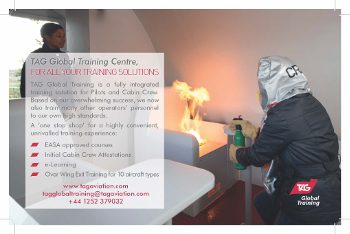 ---
Since our conception by TAG Aviation in 2007 we have become a fully integrated training solution for Pilots and Cabin Crew based at Farnborough Airport. We train approximately 3000 pilots and cabin crew from TAG Aviation and some 70 other UK and Overseas Operators each year.
TAG Global Training was the first UK Approved Training Organisation for the delivery of Attestations for Cabin Crew on both Commercial Airliners and Business Jets.
Our growing portfolio consists of Fire and Smoke, Security, CRM, Wet drills, Survival, First Aid and Dangerous Goods Courses. We can accommodate student classes from 1 – 18 delegates and available to visit on site. Our e-Learning programme compliments our ground school delivery.
At TAG, we put just as much emphasis on the soft skills needed to compliment legislative training which include, Silver Service training, FBO/ Concierge training, Teaching and Learning for Line Training Captains and Client Focus training with the emphasis on protocol when addressing high net worth clients.
Highlights
BBJ/ACJ Crew Training Incorporating Slide descents
Bespoke corporate jet fitted fire and smoke rig
All course created and delivered by industry Subject Matter Experts
Over Wing Exit mock up approved by the UK CAA for 10 different types of Business Jet
---
CPT unveils new Cessna 406 Part 147 course
Command Pilot Training has announced that they will now be offering part 147 type ratings for the Cessna 406.
The course comprises of 15 days of theory at Coventry, with a further 40 hours of practical training.
Courses will be starting throughout the year.
For more information, or to book places on an upcoming course – contact Command on 02476 016 116.
Command Pilot Training, a division of the Air Atlantique group, offers EASA licence conversion training as well as complete modular pilot training packages in addition to a host of ground school courses for pilots, engineers and operations staff.
---

Globalair.com provides aviation resources including an airport resource center for pilots, FBO fuel prices, aviation news, and aircraft for sale.
---
IS-BAH manual order form
---
Useful information on Third Country Operators, (TCO's). It covers applicability, applications and technical issues.
https://www.easa.europa.eu/the-agency/faqs/third-country-operators-tco
---
EASA Final 4 year Rulemaking Programme 2014-2017
Final 4-year Rulemaking Programme 2014-2017.xlsx
---
We are working with SOCA on our illegal chartering task force and they have provided us with some information to help protect your business activities. Please take ten minutes to review the attached papers. Please feel free to share these with your organisation to help prevent anyone from being caught out.
PROFiT Industry Breifing Note – Card Transactions
---
GAAC have produced useful information for those facing planning applications around their location. Be they airfields or operators who feel that wind turbines could impinge on them.
20130701_ManagingTheImpactOfWindTurbinesOnAviation_FINAL_V1
20130701ManagingTheImpactOfWindTurbinesOnAviation_Script_FINAL_V1
---
The Oxford Economics Report
_EBAA_Oxford_Report-Final03 – Digital[1]
---
New SFO Guidance on Bribery Act – Hospitality, Facilitation Payments and Self-reporting.
---
Please find below the attachment, Part 21 revised.
---
Please find in the attachment below a useful leaflet regarding illegal flights.
Illegal-flights_passengers_v5 (3)
---
Please find below information to assist in reviewing your safety culture. It has been developed by Eurocontrol, however, the content could be adapted and used for workshops in any organisation.
Eurocontrol safety culture cards
---
IS-BAO Manual
---
IBAC-SMS Toolkit
Do you have an appropriate and effective SMS, are you working on developing one, or are you wondering how to do it?
The requirement for commercial operators, and non-commercial operators of turbo-jet and large aeroplanes to have an SMS is quickly approaching. Therefore, you may be interested in the SMS Toolkit that has been developed by IBAC and its member associations with operators like you in mind. The Toolkit includes a hard copy booklet that provides a step-by-step process to develop and implement an SMS plus a CD that contains numerous reference documents and more than 15 individual tools for operators to use in developing, implementing and maintaining their SMS.
An SMS should not be viewed as only a regulatory requirement. An appropriate and effective SMS can enhance safety, efficiency and effectiveness of an operation. A well developed SMS will not cost money, it will save money.
The SMS Toolkit will be included with the January 1, 2009 IS-BAO revision, plus it is available as a stand alone product.
For further information on the SMS Toolkit, download the order form: