A landmark event to address the issue of training and shortage of skills in the UK aviation industry.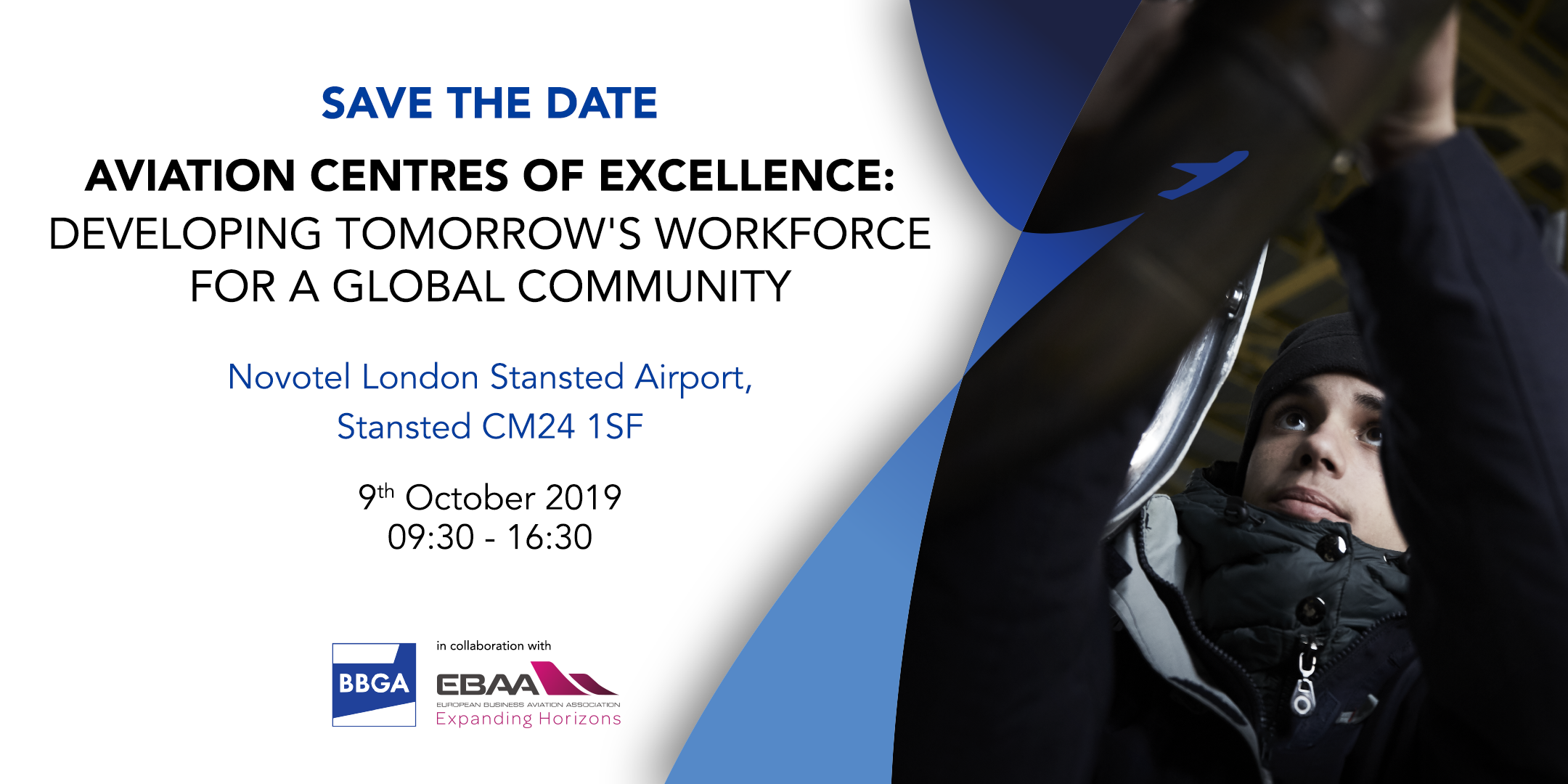 A landmark event to address the issue of training and shortage of skills in the UK aviation industry.
About the event
The British Business & General Aviation Association and European Business Aviation Association are pleased to invite you to the event "Aviation Centres of Excellence - Developing Tomorrow's Workforce for a Global Community", which will take place on the 9th of October 2019 at the Novotel London Stansted Airport. For the first time, the UK aviation industry will join forces with high-level politicians and renown educators in a unique event, to propose a solution to the shortage of skills crisis within the UK aviation sector.
The aviation sector is under transformation; new technologies are making flying faster, safer, less noisy and more sustainable. These innovations, however, require new skills. How can we equip tomorrow's workers with the newest competences required by the aerospace market? And how do we generate pathways for the next generation to join this dynamic and essential sector for the UK?
This conference will bring together key stakeholders across industry, education and government to define a way forward to promote and develop STEM skills for the aerospace industry. The proposed creation of UK Aviation Centres of Excellence will help ensure that youth who receive STEM training do so with a high probability of employment within the sector when they complete their studies.
This ground-breaking event includes a visit to the Stansted Aviation College, a model Centre of Excellence. Discover first-hand their advance teaching methods and learn how students are supported in their pursuit of a remarkable career in aviation.
An official invitation and detailed programme will soon be issued. If you are interested in attending, please save this date in your calendar and register to secure your attendance. Finally, do not hesitate to share this save the date with your contacts or colleagues who could be interested in joining the discussion… We would be delighted to have your presence on this occasion!
Please note this is an inviation only event.
When
9th October, 2019 9:30 AM through 4:30 PM
Location
Novatel London Stansted Airport
Stansted
Essex
CM24 1SF
United Kingdom
Event terms and conditions
| | |
| --- | --- |
| Enable terms and Conditions Acceptance | |
| | |
| --- | --- |
| Checkbox Position | Top profile |
| | |
| --- | --- |
| Checkbox text | I accept the Terms & Conditions |
| | |
| --- | --- |
| Terms and Conditions File | |
| | |
| --- | --- |
| Link Label | Terms & Conditions |
| | |
| --- | --- |
| Introduction | Please read and accept the terms &conditions and our Data Policy. |