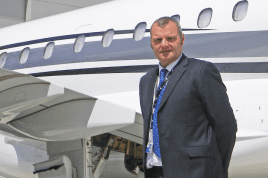 Tell us about your business?
ELMS Aviation (ELMS) is an aviation-based software company with a wealth of experience in aviation, IT services and supportive technological industry solutions. ELMS have developed the aviation Engineering and Maintenance sectors' leading Compliance and Competence Management System (The ELMS Solution).
The ELMS Solution is highly focussed on personnel competence requirements, forming a key part of an organisation's digital transformation from paper and spreadsheet-based processes. With competence typically defined as having the required "Knowledge", "Skills", "Attitudes" and "Behaviours" for the job roles within an organisation, The ELMS Solutions brings all of these elements to the forefront of the agenda to enable said organisation or individual to demonstrate such, in real time and drive:
– Continuous improvement
– Proactive competence management
– Risk-based oversight
– Capability analysis
– Clear visibility
– Professional market differentiation USP
– Enhanced reputation and product perception
What is your role?
Alan Barnes – Business Development & Operations Manager
Strategic focus – my aim is to expose ELMS to new markets and communities, whilst looking to extend the geography of our operations still further. Working within the BD Team I ensure that all opportunities and synergies are explored for the benefit of the overall group of companies
Experience – I am very proud to have started my career some 30 years ago and I remain very fortunate to have been exposed to many aspects of this wonderful world of aviation business. From AOG recovery to senior leadership roles, I have developed a very broad and in-depth capability and experience. For which I will always be grateful.
What are the business' highlights?
In addition to our product launch, the following are some of the business' highlights
Key Customer contracts – ELMS is now obtaining appropriate market positioning and we are enjoying success and exposure in new markets. To date we have secured contracts with OEMs, EU based Low-Cost Carriers & several UK based MROs. All of which see the value added with the implementation of The ELMS Solution.
Product development – In support of the recent growth strategy, ELMS is proud to have received further and continued investment from the Board and this has enabled our continued drive to bring all future product development in-house and in addition supports the great need for greater customer focus and response.
Our very latest and significant product enhancement (Drop 24) will go live in the next week or so and contains significant product additions. Digital technician "Authorisation" tool to be included. This being as a direct response of our feedback during recent customer forum(s).
Innovation and development strategy – Our headline strategy remains to listen to our customers, remain agile and supportive to their needs. This being very important as we navigate new markets and sectors within the aviation domain. ELMS must continue to add value and support any organisation demand for efficient process and aids.
How did you show resilience in the pandemic?
As a business we took the opportunity during the pandemic to look at what we do and how we do things, the result of which led to a business restructure. This allowed us to continue operating during a period of significant economic downturn and able to continue supporting our customers, whilst also giving us the ability to plan for growth post pandemic. Recognising an increasing requirement and focus on personnel competence in the marketplace, we have continued to innovate and invest in the product during the pandemic, in anticipation of the recovery. As a business we expect to emerge stronger and ready for a period of growth with the view of expanding the reach of our product into new markets and geographies.
Why have you joined BBGA?
We have joined the BBGA from a number of perspectives; to gain exposure to new markets and opportunities, to gain a better understanding the requirements of the business/corporate aviation market from a personnel competence perspective, and to gain networking opportunities from both an operational and regulatory perspective.

To find out more about Elms Aviation and discuss how they could help your business visit