Please note the view expressed in this post are those of the member posting and not necessarily of the BBGA
---
London – 4 December 2017: London Biggin Hill's Festival of Flight is set to take place at the airport on the 18th and 19th of August 2018.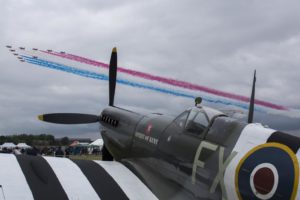 The 2018 festival will coincide with the 100th anniversary of the Royal Air Force (RAF100). Invitations to participate have been extended to The Red Arrows and the Battle of Britain Memorial Flight.
While 2018's show will commemorate the RAF's centenary year, the team at Biggin Hill team will also be launching the next 100 years of aviation by inspiring local youth to pursue careers in the industry. Its proposal to create the London Aerospace & Technology College will be showcased on-site during the Festival of Flight.
Will Curtis, managing director, London Biggin Hill, says: "It is fitting that our Festival of Flight should be celebrating both RAF100, and commemorating 'The Hardest Day' of the Battle of Britain, given the decisive role Biggin Hill played for the RAF during the Second World War. There are few sights or sounds in aviation that are able to generate the same powerful emotions as those of the iconic Supermarine Spitfire and Hawker Hurricane fighters, and we look forward to seeing and hearing them perform once again at the Festival of Flight."
Curtis continues: "London Biggin Hill is firmly established as the business airport gateway to the capital, and the Festival of Flight affords our over 60 aerospace related resident companies the perfect occasion to promote their distinct offerings and job opportunities to attendees at the show."
For further information, please visit www.bhfof.com.
Ends
High-resolution images and interviews are available.
For more information, please contact 80:20 Communications.
Kate Beveridge/Heather Mullon/Julia Craggs
Telephone: +44 20 7664 6310
E-Mail: bigginhill@8020comms.com
About London Biggin Hill Airport
London Biggin Hill Airport is located 12 miles from central London and offers award-winning VIP handling, a choice of FBOs, extensive hangarage, support and maintenance services for all ranges of business jets.
A designated UK Port of Entry, Biggin Hill is free of runway slot constraints. An exclusive six-minute helicopter transfer service to and from the heart of London makes it the fastest transfer of any London airport.
Biggin Hill is the only dedicated business aviation airport within the capital and is already home to over 65 commercial and aviation activities.
There are very few places in the world other than Biggin Hill where aircraft operators and support companies can conduct all aspects of their business operations, management and maintenance at the heart of a global city and with the confidence in their ability to expand and develop over time